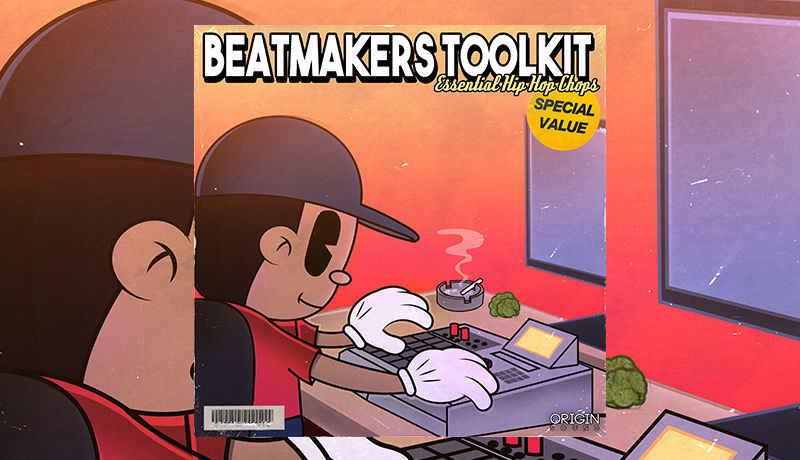 Origin Sound is proud to share its most versatile Hip Hop sample pack to date, Beatmakers Toolkit. The pack provides essential melodic chops for Trap, Lo-Fi, old school Hip Hop, and just about any sub-genre in the beat-making realm.
Start your sample hunt in the drum loops folder, complete with full loops, fills loops, and percussion/tops loops. The different drum styles melt between the spectrums of hip-hop, providing a solid selection of different vibes to choose from. With loops that are loose and gritty and drip with old school, to grooves that are tight and clean and ready to punch through a trap mix, there is a beat for every mood.
If you'd rather build your beats from the ground up, then head over to the drum hits folder. This pack provides the perfect set of tools to improvise and construct your own hybrid drum kit. With over 70 drum hits, Beatmakers Toolkit contains knocking dusty kicks, snappy snares, lush percs, and tops that bring that perfect amount of high frequency energy.
Now that you have your drums locked down, have a dig through the melodic chops folder. There is a massive amount of variety in the folder, containing sounds like bit-crushed bells, homemade guitar chops, arpeggiated harps, weathered pianos, lush pads, and melodic vocal chops. If you're looking for serious low end, the 808 folder contains all the ingredients you'll need to give your beat a deep flavour.
If you're looking for extra sauce, dig into the melodic grooves folder. These loops are combinations of melodic loops and percussion/tops loops. You are sure to find some inspiration within the 20 loops provided. This folder contains everything from pitch stretched saxophones, melting e-pianos, deep vocals, to summery guitars.
Lastly, sprinkle that dash of spice to your beats with the Vocals and SFX folders. Providing various transitions, ad libs, atmospheres and more, you'll easily add that final touch that each beat craves.
Beatmakers Toolkit is definitely one of the most flexible hip-hop sample packs on the market, and is recommended for producers of any background and skill level!