Hi there,
That's a Slate Digital preset that seems to be missing an audio sample for the Sampler Oscillator 4.
1 - Click on "Waveform" ( the missing sample name 'PIANO VIBRATO' is displayed below ).
2 - The Presets Browser will open → Click on the Expand Folders View.
3 - Navigate to DLC → Slate Digital → Keys
4 - If you can see the missing sample 'Piano Vibrato' in there, then you should be able to relink the file.
5 - You can also Right Click on any of the audio Sample Name to reveal the folder in Finder or Explorer.
If this sample is missing in the folder, then best would be to reinstall the Slate Digital version in order to restore the content and then reinstall the latest Sonic Academy version on top of the Slate Digital version ( you can just run both installers one after the other, there's no need to open ANA 2 in between ).
Hope this helps !
Cheers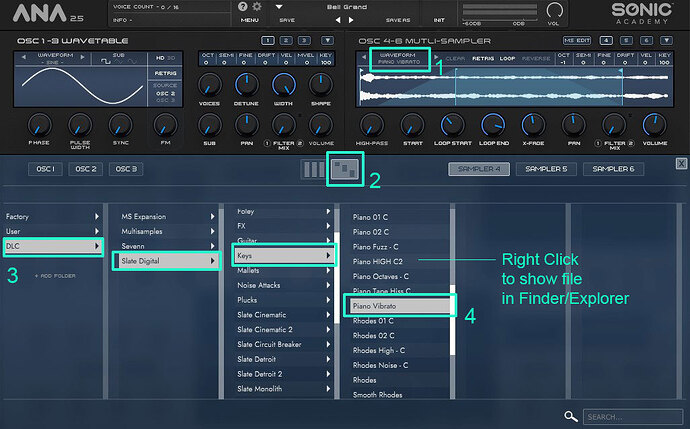 great!, this forum is amazing!!