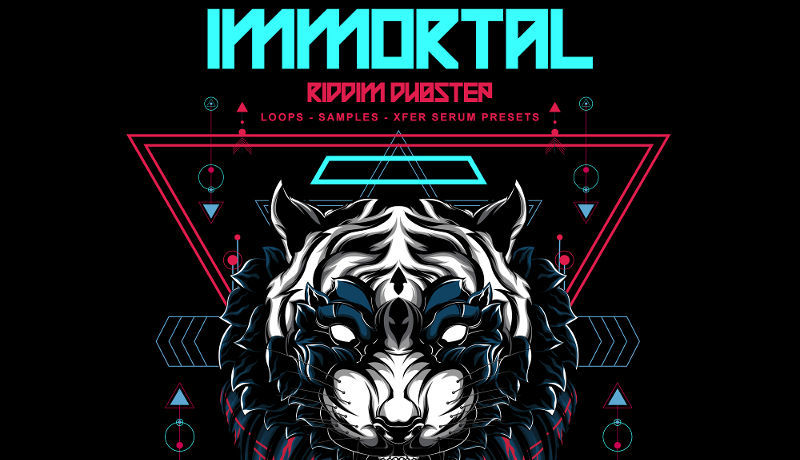 Immortal - Riddim Dubstep is an earth-shattering sound library that will certainly push your production values to the new extremes. Create immortal riddim with this 1GB+ pack! Expect the highest quality source loops, samples and presets which have been waiting to fall into your creative hands! If you're a fan of artists like Getter, Midnight Tyrannosaurus, Badklaat, PhaseOne, Trollphace, Monxx, Phiso, Subfiltronik, Requake, P0gman or INFEKT_, prepare yourselves for skull-smashing beats and breathtaking basslines.
HEAVY-WEIGHT BASSLINES
Get ready for the cone-tearing mid range screamers and colossal sub growlers with modulated textures that will blast through the walls of your studio. The bass sounds in Immortal - Riddim Dubstep ride that fine line between the iron-chomping reeses, razor-sharp squelches and high-quality gut-wrenching wobbles. Slice and chop these bad boys and serve them as a perfect side dish for your dubstep themed WIPs and projects!
KILLER DRUMS & PERCUSSION
Immortal - Riddim Dubstep features an advanced arsenal of tools that will ravage the dancefloor and give your dubstep productions a serious edge. Inside you will find a tons of boomy kicks, hard-hitting snares, crispy tops, industrial percussion and way more. All these elements are just waiting to be chopped and transformed into solid frameworks for your next dubstep riddim banger!
FULLY MACROED XFER SERUM PRESETS
If you want to have more control over your synths and basslines, start off with our selection of fully-macroed and controllable Xfer Serum presets and wavetables, Immortal - Riddim Dubstep is a bank that will really put some flex into your beats!
Get ready for a neural invasion with one of the most outstanding dubstep sample packs we ever released.
Grab Immortal - Riddim Dubstep NOW!