Noticed that there is a VST3 for Ana2 but no Kick2 yet. Is that coming? thanks!
From what I know the devs are still looking into M1 compatibility for KICK 2 and that's under testing but I don't know if a VST 3 version will be included in a next release.
Hi there @robj
Just to let you know that there's now a new beta version with both Native M1 ARM mode as well as VST3 support available from your account, please sign into your account and head to the My Account / My Downloads/ Plugins area in order to download and install KICK 2 v1.1.5 beta.

Great to know it's coming as VST3 thanks! It's not in my account, but that makes sense since I don' town it yet.

Still on sale 20% OFF through January until the 31th… Just saying
Hi
I just tried to install Beaver 1.5 but I couldn't on my Macbook Pro M1 Max for "security reasons" (see screenshot).
Do you know an alternative to install Kick 2 anyway? I can hardly do without Kick2, it's the best bass drum plugin I know!
Best
Frank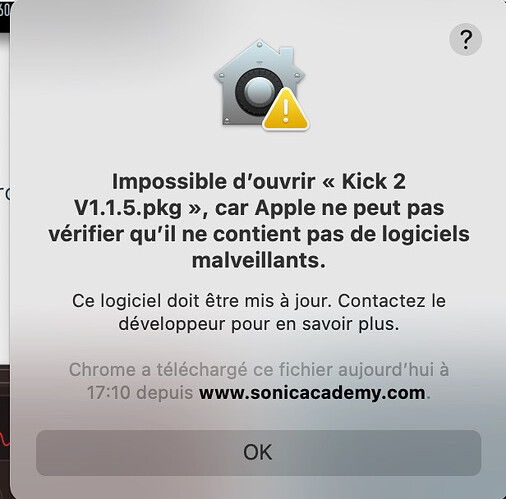 Great! I had to re-decompress the zip archive and right click on the installer finally worked. Thank you so much!
Does anyone else have their daw crashed by trying to load kick 2 vst 3 beta for the first time ?
im on ableton 11.2.5 windows 10 and its crashing it every time
btw the 1.1.5 crash ableton in both vst 2 and vst 3
since the v 1.1.4 also crash my daw there must be another problem on my side. Maybe i need to clean kick registery since i had another version installed before ?
Now it works i had to clean the registery
Sorry for the delayed reply on this.
Happy to read that you've fix the issue at your end

Yes, that was probably some files from a previous installation causing this issue, there's no other persistent Ableton crash reports with V1.1.5b to my knowledge.