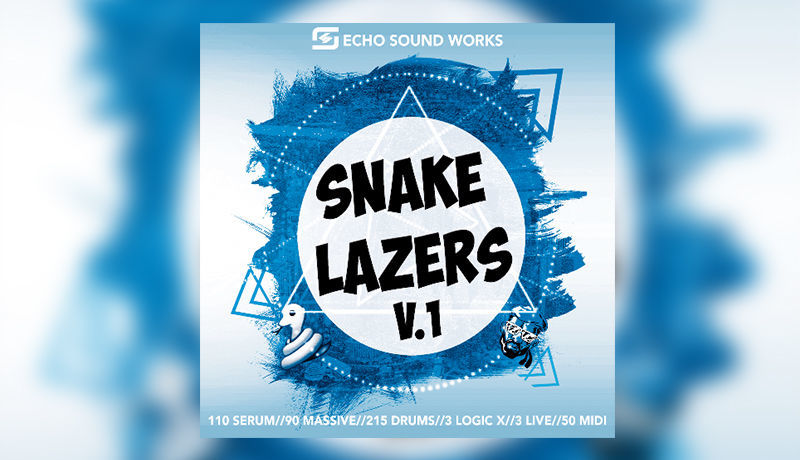 PART MOOMBATHON -
              PART FUTURE BASS -
                       PART TRAP

Echo Sound Works is proud to present the largest soundset we've ever created. Snake Lazers V.1 is the genre-bending soundset for both Xfer Records Serum and NI Massive that will help push your tracks to new levels. Inspired by DJ Snake and Major Lazer, Snake Lazers V.1 comes with everything you need to make the most cutting edge Moombahton and Trap inspired EDM tracks. We also added our own unique twists to it too, so Snake Lazers V.1 works well with Future Bass too.
Snake Lazers V.1 comes with 110 Serum presets and 90 Massive presets as well as a bunch of easy to use and inspiring bonus items listed below. Check out the YouTube video to see the presets used in real time and to see which demos are included in the DAW sessions.
Snake Lazer V.1 PRESETS DEMO (Echo Sound Works Snake Lazers V.1 - NI Massive & Serum - YouTube)
AS AN ADDED BONUS SNAKE LAZERS V.1 COMES WITH OUR TROPICAL HOUSE SOUNDSET TROPIC THUNDER V.2 WHICH COMES WITH 85 ADDITIONAL MASSIVE PRESETS AT NO EXTRA COST.
Snake Lazers V.1 is really two soundsets combined into one epic pack. There a ton of Trap and Dubstep sounds for both Massive and Serum as well Future Bass, Moombathon-Tropical House inspired presets.
We pushed each synth to its limits to bring you the most diverse set of presets. From huge gnarly dubstep basses and leads, to drop worthy vocal chops in Serum to Tropical inspired plucks like Marimbas, Boomwhackers and more, this pack has it all. We carefully assigned macros for both synths so you have control over all important elements of any patch.