Hey I have a question in regards to how I might treat my studio.



Like most, my studio is combined with my bedroom and I'm looking to improve my setup as best possible.



My room is a rectangle approx 6.24 metres by 4.24 metres with tile flooring. At the moment the only things that act as sound absorbers are my bed, couches, random bits of furniture and two large carpets. I also use two KRK 6 Inch Monitors.



Below is sorta what it looks like.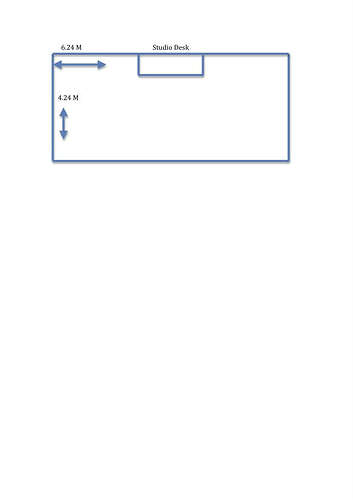 First I'm wondering. Should my studio desk be in the middle of the long or short walls??? My friend said it should be in the middle of the short wall as atm there is a shorter delay for the sound to bounce back from the wall behind me. So pretty much I get some real annoying reverb whenever I play a sample.
Second, being such a large room and myself being a uni student. It is impractical to try and sound proof all the walls so where would the most important areas be? I was thinking directly behind my monitors and the respective corners to the left and right.
If anyone could offer any advice it'd be greatly appreciated!
RT.