There's something that always touches our inner self that really sparks our drive and pushes us to pursue our goals no matter how hard. Share whatever drives you here.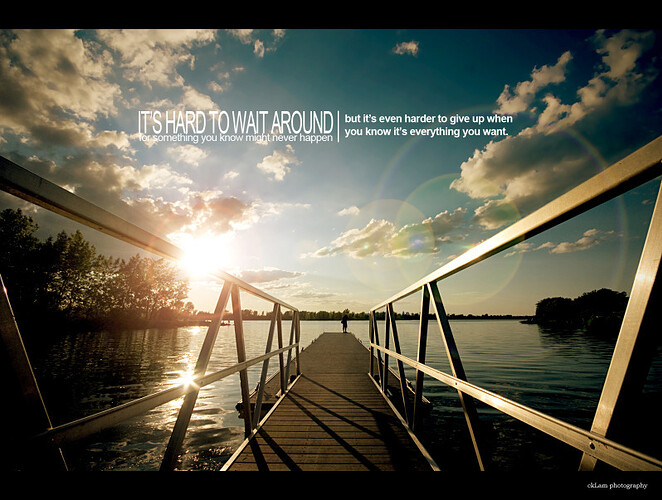 I love this picture. When I build my studio I plan on printing a full high gloss poster of it and hang it above my desk. Whenever Im feeling discouraged I can simply look up
How Bad Do You Want It? (Success) HD - YouTube
This is my favorite motivational video. It doesn't matter what your goals are, you can find inspiration here. I think about my music and fitness goals when I watch this.
Heres a quote from an interview with Wolfgang gartner that I really like
"First and foremost, it's that making dance music is the only thing I ever wanted to do, since I was a kid. I had absolutely no interest in anything else that could materialise into a job. Girls, food, making music – that's pretty much what I was interested in. If there were something else that had interested me, I probably would have pursued it long ago and quit this music thing during one of the hard periods where I wasn't successful. But there's just nothing else out there for me besides this.
Another thing is that I'm extremely antisocial and reclusive, so I pretty much don't go out, don't socialise and don't do anything except sit at home all day and make music. That means I get a lot done. And I seem to have a personality trait that makes me very persistent when I want something. Once I've decided what it is that I want, I am willing to do pretty much anything to get it. It's not easy for me to make good music; it doesn't just flow out of me like water. It's something that takes a lot of effort and hard work with every track that I make, but I want it so bad that I'm willing to sit in there all weekend and try and write a bassline for 15 hours until something finally comes out. And it really does take that length of time. Overall then, I guess it's determination as much as anything
Have you any advice for aspiring young producers out there?
Keep at it. I know everybody says it, but that's because it's true. I had been sending demo tapes to record labels for seven years before I got my first record deal."
Looking forward to hearing everyone else's stories and ideas!