Trance Takeover Event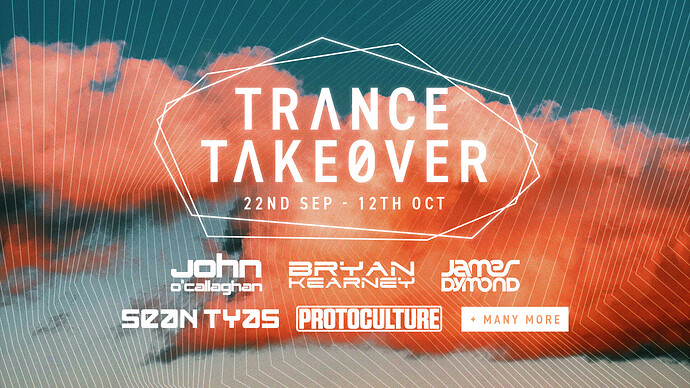 It's takeover time again at Sonic Academy towers, and this coming month we are pulling out the big guns for a massive trance takeover.
We have grabbed some time with some of the biggest names in Trance - John O'Callaghan, Bryan Kearney, Maor Levi and Orjan Nilsen to deep dive into all things trance, their studio process and some invaluable tips and tricks from those at the top of the game!
The MasterClass
We bring you not one but three massive courses over the month in three epic trance styles. First up, we have Sonic Academy favourite James Dymond back at the helm to create a monster ASOT/FSOE-style uplifting trance track and launch the remix competition - more on this later!
Next, we just had to call upon the master of the trance progressive sound - Mr. Protoculture to create his classic Anjuna / Trance 2.0 style vibe, showing you how to create those deeper, darker style tracks. Lastly, we wanted to bring you the mainstage, 138 style trance and who better than the man himself, Sean Tyas. to deliver a frenetic track and indeed a frantic course, strap in for this one.
The Remix Competition
Win £500 and release Your Track on Sonic Academy Records, You'll get all the information and resources you need to practice your new skills, upload your remix of the featured track, and be in with a chance of winning some awesome prizes! The top prize will win £500 and an opportunity for your track to be released on Sonic Academy Records!
Exclusive Content
To help you on your path to making amazing trance tracks or any genre, we are also launching some great content. We have a brand new ANA 2 Trance Preset pack that contains sounds used in the masterclasses and a whole lot more. We also have an insanely good sample pack dropping with a huge amount of perc's, music loop kits, baseline and essential one-shots in one killer pack. Lastly, we have a pristine reversed engineered Kick preset pack bringing the latest and best in trance 2.0, ASOT/FSOE and 138 hard-edge kicks for the world's most popular kick drum synth.
The Enrolment
During the Trance Event, you'll get exclusive professional insights into Trance production, chat and interact with ourselves and others on the forums and live shows.
So what are you waiting for? Enrol today to stay in the loop with all the info about the up-and-coming event!